WELCOME TO CYBERDINE DARTS WORLD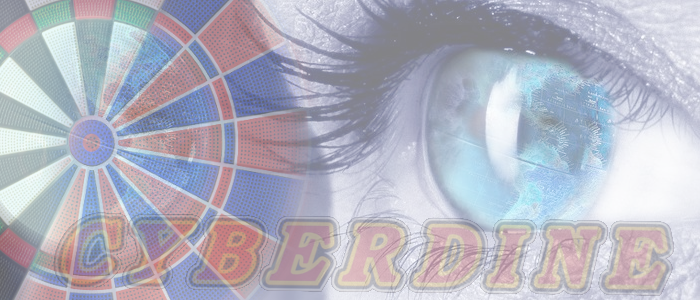 History of CYBERDINE d.o.o. goes back to the 1990s. When the electronic darts project began to develop, and since then CYBERDINE has developed into a leading manufacturer of electronic darts in both Europe and the world as we know it today.
With our own knowledge and development we in CYBERDINE have made a superb electronic darts machine that is made to last and endure countless games.
Main CYBERDINE production project is focused on the development and improvement of electronic darts machines. First of all we wish is that we work with partners to be satisfied in CYBERDINE darts world.
We in CYBERDINE pass our long experience and knowledge on our partners to be successful in continuity. Our business strategy is to make the best electronic darts machine, and have satisfied customers and partners.
Listening to advice, wishes and experiences of our partners improve CYBERDINE darts machines to fit all the standards.
Geschichte der CYBERDINE d.o.o. geht zurück auf die 1990er Jahre. Wenn die Elektronik-Dart-Projekt zu entwickeln begann, und seitdem CYBERDINE hat sich zu einem der führenden Hersteller von Elektronik-Dart in Europa und der Welt entwickelt, wie wir sie heute kennen. Mit unserer eigenen Kenntnisse und Entwicklung, die wir in CYBERDINE eine hervorragende Elektronik-Dart Maschine, die durchgeführt wird, um letzte und unzählige Spiele zu ertragen haben. Main CYBERDINE Produktion Projekt ist auf die Entwicklung und Verbesserung des elektronischen Dart Maschinen. Vor allem wollen wir, dass wir mit Partnern zusammenarbeiten, um in CYBERDINE Dart Welt zufrieden zu sein. Wir gehen in CYBERDINE unserer langjährigen Erfahrung und Wissen über unsere Partner in der Kontinuität erfolgreich zu sein. Unsere Geschäftsstrategie ist es, die besten elektronischen Dart Maschine zu machen, und haben Kunden und Partner zufrieden. Hört zu beraten, Wünsche und Erfahrungen unserer Partner zu verbessern CYBERDINE Darts alle Normen anzupassen.
Povijest CYBERDINE d.o.o. seže u 1990. Godinu kada je počeo razvoj projekta elektroničkog pikada i od tada se razvio u vodećeg proizvođača elektroničkih pikada kako u Europi tako i u Svijetu kakvog poznajemo danas.
Vlastitim znanjem i razvojem CYBERDINE je napravio vrhunski elektronički pikado aparat koji je napravljen da traje i izdrži nebrojeno mnogo igara.
Glavni projekt proizvodnje CYBERDINE –a je usmjeren na razvoj i usavršavanje pikado aparata. Prije svega nam je želja da partneri s kojima surađujemo budu zadovoljni u CYBERDINE pikado svijetu. Svojim partnerima prenosimo višegodišnje iskustvo i znanje kako bi bili uspješni u kontinuitetu.
Naša poslovna strategija je napraviti što bolji elektronički pikado aparat i imati zadovoljne partnere i kupce.
Slušajući savjete, želje i iskustva naših partnera unapređujemo CYBERDINE pikado projekt kako bi odgovarao svim standardima.